2018
AUGUST
Tour de Mont Blanc trekking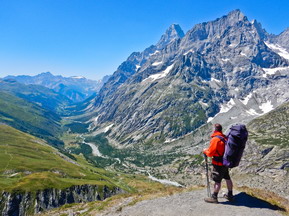 JULY
Norway: Spitsbergen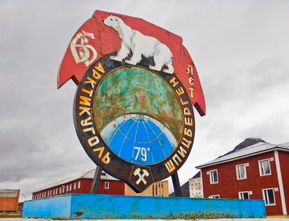 Norway: trekking in Hardangervidda NP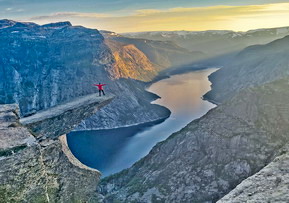 JUNE
Russia. Chukotka: hiking to Cape Dezhnev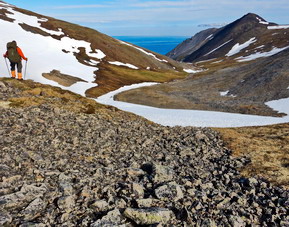 JANUARY
Ecuador: Galapagos Islands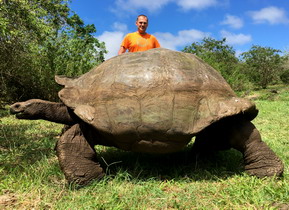 2017
AUGUST
Russia: Putorana Plateau Hiking Expedition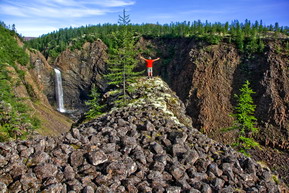 JULY
Western and Central Deserts of Australia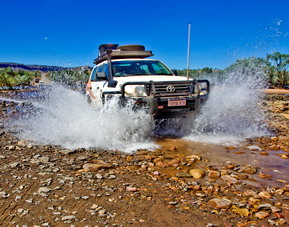 JANUARY
Best beaches of Dominican Republic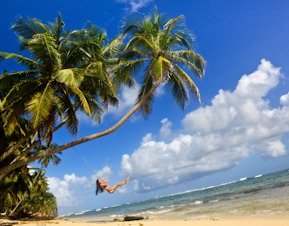 2016
SEPTEMBER
Kazakhstan: The Altai Mountains Trekking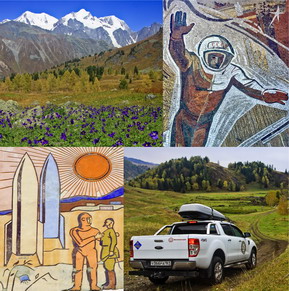 Alpine Trekking Guidebook (2011-2016)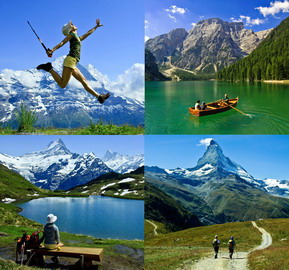 Berner Oberland, Chamonix-Mont-Blanc, Zermatt, Aletsch Glacier, Grossglockner High Alpine Road,
St. Moritz, Bernina pass and glacier, Dolomites (TreCime, Lake Braies, Cortina d'Ampezzo),
Vanoise National Park, Stelvio National Park, Triglav National Park, etc.
2015
AUGUST
Russia: The Kamchatka Volcanoes Trekking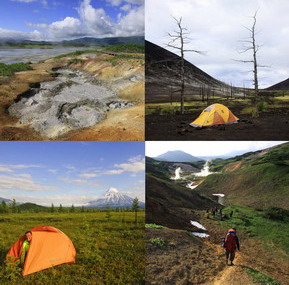 JULY-AUGUST
Russia: Yakutiya and Kolyma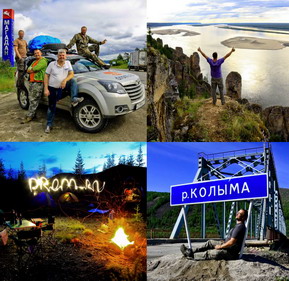 JUNE-JULY
Central Asia
(Uzbekistan, Tajikistan, Kyrgyzstan, Kazakhstan)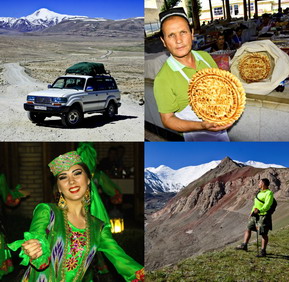 APRIL
Trekking in Nepal (Manaslu trek)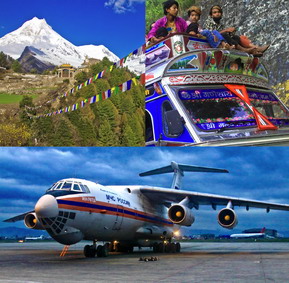 2014
SEPTEMBER
Seychelles Islands and United Arab Emirates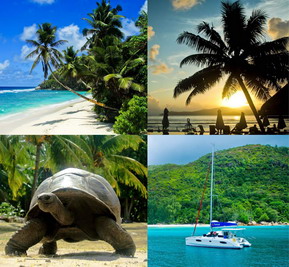 AUGUST
South Africa, Namibia, Botswana, Zimbabwe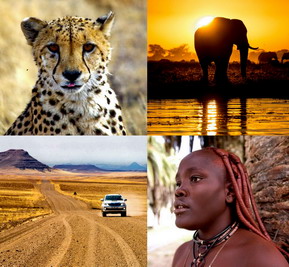 2013
NOVEMBER
Transatlantic cruise and Dominican Republic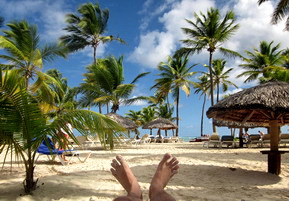 Barcelona, Palma de Mallorca, Malaga, Gibraltar, Gran Canaria, Grand Turk, New Orleans, Punta Cana
OCTOBER
Oktoberfest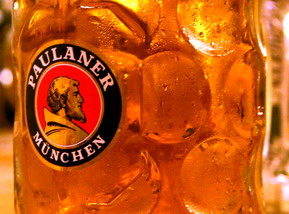 Munich (Germany)
MAY
Greek Islands
Venice, Corfu, Athens, Santorini, Dubrovnik
2012
AUGUST-SEPTEMBER
National parks of Florida and South-West
and Caribbean and Pacific cruises
Moscow, Dusseldorf, Fort Myers, Miami, Mexico (Cozumel), Belize (Belize City, Caye Caulker),
Honduras (Roatan island), Grand Cayman, Miami, Bahamas (Half Moon ?ay), US Virgin Islands (St. John),
Puerto Rico (San Juan), Turks and Caicos (Grand Turk), Miami, Everglades NP, Long Key Sp, Key West,
Fort Lauderdale, Los Angeles, San Mateo Sequoia Memorial Park, San Francisco, Yosemite NP, Mono Lake,
Mohave Desert, Zion NP, Bruce Canyon NP, Capitol Reef NP, CanyonLands NP, Arches NP, Aspen,
Independence Pass, San Juan Mountains, Silverton, Telluride, Monument Valley, Page,
Grand Canyon NP, Hoover Dam, Mead Lake, Las Vegas, Primm, Malibu,
Los Angeles, Mexico (Los Cabos, Puerto Vallarta), Los Angeles, Moscow
2011
JULY-OCTOBER
Round-The-World Wedding Journey
(92 days & 65 000 km)
Moscow, Berlin, Iceland (Reykjavik, Pingvellir National Park, Geysir, Gullfoss, Kerlingarfjoll,
Akureyri, Myvatn, Askja, Nyidalur, Landmannalaugar, Alftavatn, Reykjavik, Blue Lagoon, Keflavik airport),
USA (Newark Airport, New York, Stamford, Cape Cod, Boston, Hampton Beach, Acadia NP, Moosehorn NWR,
Lake Umbagog NWR, White Mountains/Mt. Washington, Boston Logan Airport, Atlanta), Mexico (Cancun Airport,
Chechen Itza, Uxmal, Calakmul, Kohunlich, Bacalar, Tulum, Grand Cenotes, Play del Carmen,
Xpu-Ha, Punta Cancun), USA (Atlanta, SFO Airport, San Francisco, Road #1, Redwood National Park,
Crater Lake National Park, Mt. Hood, Seattle, Mt. Rainer National Park, Seattle),
Canada (Monck Provincial Park, Mt Robson Provincial Park, Jasper National Park, Banff National Park,
Yoho National Park, Kootenay National Park), USA (Yellowstone National Park, Salt Lake,
Arches National Park, Canyonlands National Park, Lake Mead, Las Vegas, Death Valley, Mono Lake,
Tahoe Lake, Sacramento, Maui Island (Hawaii), Honolulu (Oahu Island - (Hawaii)),
Cruise of Royal Caribbean (Rhapsody of The Seas) from Honolulu to Auckland,
French Polynesia (Tahiti, Moorea, Bora Bora), New Zealand (Auckland, Auckland Airport,
Tongariro National Park, Taupo Lake, Rotorua, Opoutere Beach),
Fiji (Nadi, Port Denerau, Safe Landing Resort (Blue Lagoon – Yasawa Island), Nadi),
Australia (Sydney), Abu Dhabi (UAE), Moscow
APRIL-MAY
The Alps
(auto journey at the distance of 8200 km)
Moscow, Vitebsk, Bobruisk, Brest, transit through Poland, Praga, Linz, Hallstatt, Gosausee (Dachstein),
Konigsee, Krimml Falls, Lienz, Villach, Ljubljana, Otocec, Skocjan Caves, Venezia, Dolomites, Innsbruck,
Neuschwanstein, Tyrol Valleys, Stelvio NP, St-Moritz, Como Lake, Milan, Aosta, Chamonix-Mont-Blanc,
Le Man, Paris, transit through Belgium and Holland, Bremen, Gamburg, Kiel, Klaipeda,
Kurshskaya spit, Vilnius, Vitebsk, Moscow
DECEMBER-JANUARY
Thailand - Cental Tibet - Nepal
Moscow, Shanghai, Kualu-Lumpur, Hat Yai, Ko Lipe, Ko Kradan, Ko Lanta, Krabi (Ao Nang, Railay),
Phi-Phi, Krabi, Kualu-Lumpur, Chengdu, Leshan, Golmud, Lhasa, Yamdrok Lake, Gyantse, Shigatse,
Everest BC, Tingri, Zhangmu, Kathmandu, Sharjah, Kiev, Moscow.
2010
APRIL-MAY
Around Australia (via Sakhalin (Russia) and Japan)
(auto journey at the distance of 17000 km (more than 10000 miles))
Moscow, Yuzhno-Sahalinsk, Sapporo, Osaka, Kioto, Nara, Cairns, Mission Beach, Murray Falls,
Wallaman Falls, Townsville, Cedar Falls, Conway NP, Emerald, Carnarvon NP, Roma, Main Range NP,
Moogerah Lake, Lamington NP, Byron Bay, Lennox Head, Dangar Falls, Eor Falls, Wollomombi Falls,
Yengo NP, Lithgow, Katoomba, Blue Mountains NP, Fitzroy Falls, Jervis Bay NP, Mimosa Rocks NP,
Kosciuszko NP, Alpine Way, M31, Great Ocean Road, Grampians NP, Adelaide, Port Augusta,
Ceduna, Nullarbor, great Australian Bight, Norseman, Kalgoorie, Woodland NP, Nambung NP,
Kalbarri NP, Geraldton, Shark Bay NP, Monkey Mia, Carnarvon, Coral Bay, Exmouth, Ningaloo NMP,
Pilbara Plateau, Karijini NP, Port Hedland, Eighty Miles Beach, Broome (Cable beach),
Geikie NP, Purnululu NP (Bungle Bungle), Kununurra, Gregory NP, Katherine, Mataranka,
Stuart Hwy, Barkly Hwy, Mt Isa, Cloncurry, Normanton, Tableland (Millaa Millaa Falls,
Lake Eacham), Cairns, Fitzroy Island, Osaka, Tokyo, Moscow.
DECEMBER-JANUARY
North Africa (Egypt, Lybia, Tunis) and Italy
Moscow, Marsa Alam, Al-Qusier, Safaga, Qena, Luxor, Cairo, Dahab, Sharm al-Sheikh,
Alexandria, Marsa Matruh, As Sallum, Tobruk, Ajdabiyah, Surt, Waddan, Sebha, Germa,
Ubary Sand Sea, Ubary lakes (incl. Umm al-Maa), Hammadat Murzuq, Wadi Methkandoush,
Idehan Murzug, Jebel Akacus, Al'Uwaynat, Ghat, Sebha, Al Qaryah, Ghadames,
Jebel Nafusa, Nalut, Qars al-Haj, Leptis Magma, Tripoli, Ras al-Jedid, Tunis, Rome,
Warsaw, Brest, Minsk, Moscow
2009
JUNE-AUGUST
West Siberia, Mongolia, East Siberia
(4WD-journey at the distance of 17200 km (more than 10000 miles))
Moscow, Vladimir, Nizhnij Novgorod, Cheboksary, Kazan', Ufa, lake Zjuratkul', Cheljabinsk,
Kurgan, Chastoozer'e, Ishim, Omsk, Novosibirsk, Barnaul, Chujskij trakt, Tashanta, Tsagan-Nur,
Ulgii, lake Hoton-Nur, lake Hurgan-Nur, Ulgii, Hovd, lake Hara-Us-Nur, Gobi-?ltai, Uliastai,
Buran-Han, Moron, lake Khovsgol, Muren, Bulgan, Erdenet, ?marbayasgalant Khid,
Darkhan, Sukh-Baatar, ?ltan-Bulak, Kyahta, Zaganskij range, Yablonovyj range, lake ?rey,
Ulan-Ude, lake Baikal, Goryachinsk, Ust'-Barguzin, Zabajkal'skij NP (Sorozh'ja bay), Turka,
Tunkinskaja valley, Irkutsk, Sayansk, Kansk, Krasnojarsk, Krasnojarskie Stolby, ?chinsk,
Kemerovo, Novosibirsk, Omsk, Ishim, Kurgan, Cheljabinsk, Ufa, Samara, Saratov,
Volgograd, Kamensk-Shahtinskiy, Roven'ki, Moscow
DECEMBER-JANUARY
National Parks of Hawaii and Florida (USA)
Moscow, Chicago, Los Angeles, Oahu (Honolulu, Sunset Beach Park, Malaekahana Beach,
Kaulia, Pearl Harbor, Honolulu), Big Island (Kona, Spencer Beach Park, Hawai'i Volcanoes NP,
Hilo, Mauna Kea SRA, Spencer Beach Park, Kona), Kaua'i (Lihue, Anini Beach Park, Haena Park,
Waimea Canyon and Koke'e SP, Na Pali Coast State Wilderness Park (trekking to Kalalau beach),
Haena SP, Hanalei, Lihue),Los Angeles, Las Vegas, Miami, Maimi beach, Key Largo,
John Pennekamp Coral Reef State Park, Key West, Everglades NP, Biscane NP,
Miami, Chicago, Moscow
2008
AUGUST-SEPTEMBER
National Parks of West USA
Moscow, San Francisco, Yosemite NP (Tioga Road), Mono Lake, Tahoe lake, Lassen Volcanic NP,
Whiskeytown-Shasta-Trinity NRA, Redwood National and State Parks, Crater Lake NP
Oregon Pacific Coast, Olympic NP, San Juan Islands (Orcas), North Cascades NP,
Colville NF, Glacier NP, Yellowstone & Grand Teton NP, Craters of The Moon NM, Sun Valley (Idaho),
Great Basin NP, Bryce Canyon NP, Capitol Reef NP, Glen Canyon NRA, Natural Bridges NM,
Canyonlands NP, Petrified Forest NP, Las Vegas, Los Angeles, Moscow
Switzerland
Moscow, Geneva, Zermatt, Zurich, Lucerne, Bern, Geneva, Moscow
JUNE
Egypt
- diving in Red Sea
Moscow, Sharm-El-Sheikh (Shark Bay, Local South (Roskaty& Ras Umm Sid),
Ras Mohammeed NP (Shark&Yolanda Reefs, Ras Za'atar, Ras Gazlaniy), Moscow
APRIL-MAY
National Parks of SouthWest USA
Moscow, Los Angeles, San Francisco, Yosemite NP, Kings Canyon & Sequoia NP, Death Valley,
Las Vegas, Zion NP, Grand Canyon (South Rim), Monument Valley NM, Arches NP,
Vail, Denver, Esters Park, Rocky Mountain NP, Denver, Black Canyon of the Gunnison NP,
Mesa Verde NP, Monument Valley NM, Grand Canyon (North & South Rim), Las Vegas,
Joshua Tree NP, Los Angeles (Malibu & Santa Monica, Hollywood), Big Sur, San Jose
(Silicon Valley), Oakland, San Francisco, New York, Moscow
Thailand-Philippines-China
Moscow, Ashgabad, Bangkok, Manila, Kalibo, Boracay, Cyeo, Puerto Princess, Sabang, El Nido,
Busuanga, Coron, Manila, Shanghai, Moscow
2007
Uzbekistan
Rostov-on-Don, Tashkent, Samarqand, Bukhara, Nukus, Moynak (Aral Sea),
Khiva, Urgench, Tashkent, Moscow
AUGUST
USA (Alaska and East Coast)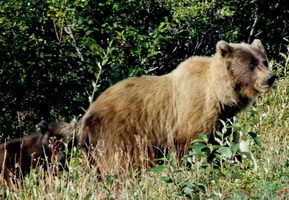 Moscow, New York, Seattle, Bellingham, Alaska (Ketchikan, Wrangell, Petersburg,
Juneau, Haines, Skagway, Yakutat, Whittier, Anchorage, Talkeetna, flightseeing Mt. McKinley,
trekking in Denali National Park, Denali Highway, Paxton, Glennallen, Matanuska glacier,
Anchorage, Fairbanks, Dalton Highway, trekking in Brooks Range, Prudhoe Bay,
Barrow, Anchorage, Homer, Kodiak, Chignik, Sand Point, King Cove, Cold Bay,
False Pass, Akutan, Dutch Harbor, Anchorage), Chicago, New York, Philadelphia,
Washigton, New York, Moscow
Morocco
Moscow, Frankfurt, Casablanca, Meknes, Volubilis, Fes, Sahara desert (Merzouga (Erg Chebbi),
Todra Gorge, Dades Gorge, Quarzazate, Draa Valley, Zagora, M'Hamid), Ait Benhaddou,
Marrakech, Essaoira, Casablanca, Frankfurt, Moscow
JANUARY-MART
Latin America & Antarctica
(Cuba, Costa-Rica, Peru, Chile, Antarctica, Argentina, Peru, Venesuela)
Moscow, Havana, El Salvador, San Jose, Lima, Nazca desert, Arequipa, Colca Canion,
Tacna, Arica, Santiago, Easter Island, Santiago, Puerto Montt, Chilian fjords (Navimag ferry),
Puerto Natales, NP Torres del Paine, Punta Arenas, cruise "Australis" (Strait of Magellan,
Cordillera Darwin, Beagle Channel), Ushuaia, Antarctic Peninsula (Drake Strait, South Shetland Islands,
Paulet Island, Esperanza Base, Hope Bay, Deception Island (Telefon Bay/Pendulum Cove),
Cierva Cove/Primavera, Lemaire Channel, Peretmann Island, Pleneau Bay, Peretmann Island/Lemaire Channel,
Neko Harbour (Andvord Bay), Port Lockroy (Goudier island)/Jounga Point, Melchior Islands, Drake Strait),
Ushuaia, El Calafate, Perito Moreno & NP Los Glaciares, Buenos Aires, Uguasu falls, Tucuman, Salta,
La Quiaca, Villazon, Southwest Bolivia, Salar de Uyuni, La Paz, Copacobana, Lake Titicaca, Puno, Cusco,
Machu Picchu, Lima, Caracas, Margarita Island, NP Canaima (Santo Angel), Margarita Island,
Los Roques, Caracas, Frankfurt, Moscow
JANUARY
Israel, Jordan & Palestine
Moscow, Tel-Aviv, Jerusalem, Petra, Wadi Rum, Dead Sea, Bethlehem, Jerusalem, Tel-Aviv, Moscow
2006
JULY-AUGUST
Russia: Polar Ural
- trekking
Moscow, Chum-Labytnangi rail (rail station 110km), river B.Pajpudyna, river B.Harbey, river Mednyj, river B. Minesejshor,
river Langot'egan, river Ingiloregan, lake Ingilor, river Njaharnejashor, river B.Hadata, river Saljatal'bja,
river M.Shuch'ya, lake Usvato, river Usa, Severnyj, Vorkuta, Moscow
JUNE
Kazakhstan
Moscow, Aktobe, Almaty, Aktau (oil fields of BMB Munai), Bautino (sea base of Caspian Services), Atyrau (oil field of Big Sky),
Aktobe (oil fields of Transmeridian Exploration and Arawak Energy), Almaty, Moscow
APRIL-MAY
Australia and New Zealand
Moscow, Seoul, Sydney, Tasmania (Cradle Mountains NP), Melbourne, Adelaide, Uluru (Ayers Rock),
Kings Canyon, Alice Spring, Darwin (Litchfield NP, Kakadu NP, Katherine Gorge), Whitsunday islands, Great Barrier Reef (Hardy Reef),
Brisbaine, Christchurch, Queenstown, Milford Sound Fiord, Queenstown, Auckland, Seoul, Moscow
MARCH
India
Hanoi, Delhi, Rajasthan (Jaipur, Jodhpur, Jaisalmer, Great Thar Desert, Udaipur),
Bombay, Alibag, Bombay, Varanasi, Khajuraho, Agra, Delhi, Kiev, Moscow
DECEMBER-FEBRUARY
Cambodia-Laos-Vietnam
Cambodia (Ankor Wat, Phnom Penh), Laos (Mekong river (fast speed boat from Chang to Rai Luang Prabang), Vientiane, Luang Prabang),
Vietnam (Ho Chi Minh City (Saigon), Halong Bay, Sapa, Hanoi)
Malaysia-Indonesia
Malaysia (Kuala Lumpur, Borneo (Kota Kinabalu, Mt. Kinabalu, Tawau),
Indonesia (Java (Jakarta, Solo, Prambanan, Yogyakarta, Borobudur, Gunung Bromo, Surubaya),
Bali, Lombok, Gili islands, Sulawesi (Makassar, Tana Toraja, Pare Pare), Kalimantan (Nunukan)
Thailand-Singapore-Burma
Thailand (Bangkok, Ayuthaya, Phuket, Phi-Phi Island, Ao Nang, Krabi, Chang Mai, Chang Rai, Pattaya, Ko Samet),
Singapore, Burma (Yangon, Bago, Mandalay, Bagan)
2005
OCTOBER
Kazakhstan
Moscow, Almaty, Aktau (oil fields of BMB Munai), Fort Shevchenko and Bautino (sea port owned by Caspian Services), Aktau, Astana, Almaty, Moscow
SEPTEMBER
Georgia & Azerbaijan
Moscow, Tbilisi, Davit Gareja, Sagarejo, Ninotsminda, Tbilisi, Baku, Moscow
JULY-AUGUST
Canada
Toronto, Ottawa, Quebec (Montreal, Quebec), New Brunswick (Fredericton, Moncton), Nova Scotia (Halifax, North Sydney),
Newfoundland (Port aux Basques, Corner Brook, Terra Nova National Park, St. John's, Lewisporte),
Labrador (Cartwright, Happy Valley Goose Bay, Wabush, Labrador City), British Columbia (Vancouver), Alberta (Calgary), Toronto
MAY-JUNE
TransSiberian Railway & North and West China
Moscow, Kemerovo, Ulan Ude, Chita, Svobodny, Habarovsk, Vladivostok, Suifenhe, Mudanjiang, Harbin, Beijing, Datong,
Hohhot, Yinchuan, Lanzhou, Xining, Taer Si, Lake Qinghai Hu, Dunhuang, Turfan, Urumqi, Baku
FEBRUARY-MARCH
South China
Moscow, Hong Kong, province Yunnan (Kunming, Shilin, Dali city, Lijiang, Tiger Leaping Gorge, Zhongdian),
province Sichuan (Chengdu, Leshan), Dazu, Chongqing, Hangzhou, Shanghai, Guilin, Yangshuo, Guangzhou, Hong Kong, Moscow
JANUARY
Armenia
Moscow, Yerevan, Aparan, Sritak, Vanadzor, Alaverdi, Sananin, Haghpat, Dilijan, Goshavank, Haghartsin, lake Sevan,
Yerevan, Gerhard Monastery, Garni Temple, Echmiadzin, Khor Virap, Yerevan, Moscow
2004
DECEMBER-JANUARY
Uzbekistan
Moscow, Tashkent, Urgench, Khiva, Bukhara, Qarshi, Shakhrisabz, Samarkand, Tashkent, Moscow
OCTOBER
Kazakhstan
Moscow, Almaty, Aktau (oil fields of BMB Munai and Nelson Resources), Fort Shevchenko and Bautino
(sea port owned by EMPS Corporation), Aktau, Shimkent (Shimkent oil refinery, PetroKazakhstan), Almaty, Moscow
JULY - AUGUST
Northern Sweden, Norway, Faroe & Shetland islands and Denmark
Moscow, Saint Petersburg, Helsinki, Vaasa, Umea, Lulea, Kiruna, Abisko, Narvik, Skutnik, Lofoten islands (Svolvaer, Kabelvog,
Henningvaer, Leknes, Reine, Moskenes, A, Vaeroy, Rost, Bode, Trondheim, Dombas, Aldalsnes, Trollstigen, Geiranger, Hellesylt,
Briksdal glacier, Stryn, Skei, Sognefjorden, Aurland, Flam, Flamsbama, Myrdal, Bergen, Torshavn, Vestmanna Bird Cliffs, Saksun,
Lerwick, Bergen, Haugesund, Stavanger, Kristiansund, Oslo, Gothenburg, Copenhagen, Hellerod (Frederiksborg slot), Helsingor
(Elsinor – Kronborg slot), Copenhagen, Stockholm, Moscow
DECEMBER-JANUARY
East China
Moscow, Beijing, Chende, Taiyuan, Pingyao, Shaolin Si, Luoyang, Xi'an, Shanghai, Nanjing, Suzhou, Shanghai, Moscow
2003
NOVEMBER
Turkey
Moscow, Istanbul, Ankara, Izmir, Efes, Izmir, Pergam, Canakkale, Istanbul, Moscow
JULY-OCTOBER
The project "Around of Europe' 2003"
- on a yacht "Mirabel" from Arkhangelsk (Russia) in the Bar (Montenegro).
For 3 months the yacht has passed 5298 sea miles (over 9 000 kms.). The yacht has visited 20 cities in eight countries.
Russia (Arkhangelsk), Norway (Vardo Tromso, Trondheim, Alesund, Bergen), Netherlands (Amsterdam), France (Le Havre),
Spain Corunna), Portugal (Lisbon), Gibraltar, Spain (Malaga, Almeria, Cartagena, Ibiza, Majorca), Italy (Sardinia (Cagliari),
Redzhio-di-Kalabrija, Brindisi), Montenegro (Bar).
AUGUST
Norway, Sweden, Finland
Moscow, Murmansk, Kirkines, Vardo, Batsfjord, Honningsvag, Nordcape, Honningsvag, Havoysund, Hammerfest, Oksfjord, Skejrvoy,
Tromso, Harstad, Risoyhamn, Sortland, Stokmarknes, Trollfjorden, Svolvaer, Sandnessjoen, Trondheim, Kristiansund, Molde, Floro, Bergen,
Oslo, Stockholm, Aland Islands, Turku (Abo), Helsinki, Saint Petersburg, Moscow
JULY
Russia: Anabar plateau and Popigay crater
- Trekking & rafting . Distance – 650 kms. Tundra & arctic desert.
Moscow, Mirnyj, Poljarnyj, Udachnyj, Nadezhnyj, Olenyok, Saskylah, r. Anabar, Sjurjah-Dzhangy, top of 414 m, r. Fyodor,
valley of r. Popigay (Popigay crater), northern part of Anabar plateau (r.Nalim-Rossoha, r.Kjungkjuj-Rossoha, r.Tuguttur, r.Hastyr),
r. Fomich, r. Eriechka, r. Kotuy, Kajak, Khatanga, Moscow.
FEBRUARY-MARCH
Iran
Moscow, Tehran, Yazd, Kerman, Bam, Shiraz, Pasargadae, Naghsh-e Rostam, Persepolis, Shapur, Bishapur cave,
Esfahan, Ahvaz, Choqa Zanbil, Susa, Kermanshah, Tad-e Bostan, Bisotun, Tehran, Dizin (sky resort), Tehran,
island Kish, Tehran, Moscow
JANUARY
Peninsula Sinai (Egypt) - Jordan - Syria - Lebanon
Moscow, Sharm el-Sheikh, St.Catherine Closter, Mountain of St.Catherine, Nuweiba, the Colour canyon,
ferry Nuweiba - Aqaba, Aqaba, Petra, castle Ash Shawbak, National park Dana, castle Al-Karak, the Dead sea,
Wadi Kharrar (The Baptism Site - a place of christening of the Jesus), the river Jordan, Mount Nebo, Sky, Madaba, Amman,
Jerash, Damascus, Beirut, Saida (Sidon), Sour (Tyre), Beit Eddine, Byblos, Kars Musa, the Lebanese mountains, the Lebanese cedars, Moscow
2002
Syria - Lebanon
Moscow, Damascus, Palmyra, Syrian desert, Qasr Al-Hayr Al-Charqui, Rasafa, lake Asad,
the Soviet hydroelectric power station on Euphrates, Euphrates, Aleppo, Qalaat Semaan,
Qalb Lozeh, Ebla, Apamea (Afamea), Hama, the river Oront, Qalaat Shamamis, castle Sheizar,
castle Misaf, castle Markab, castle Crak des Chevaliers, Homs, Seydnaya, Maaloula,
cave Kain and Avel', Damascus, Beirut, Baalbek, unpremeditated encounter with Ms. Russia - 2002 (Ms. Europe - 2002)
and Ms. Ukraine - 2002, caves Jaita, Beirut, Damascus, Bosra, Qanawat, Shahba, Damascus, Moscow
AUGUST
Russia: The Project "The Sacred North of Russia"
- on a yacht "Mirabel" from Saint Petersburg to Archangelsk.
Moscow, Saint Petersburg, Ladoga lake, Priozersk, Kil'pola, "Kocherga", Valaam, Sortavala, Mantisansaari,
the river Svir', Lodejnoe pole, Alexander Svirski monastery, Mandroga, Podporozh'e, Onega lake, Petrozavodsk, Kizhi, Povenets,
Belomorkanal (the White sea-Baltic sea channel), Belomorsk, Solovetski islands, Archangelsk, Moscow
JULY
Russia: Altai
Moscow, Novosibirsk, the river Average and Bottom Katun (on raft), the river Ursul (on catamarans),
Middle and Bottom Katun, Novosibirsk, Moscow
JUNE
Russia: 501-road
- the deserted railway in tundra of the north of Western Siberia
Moscow, Labytnangi, Salekhard, up to 83 kms. 501-roads, Salekhard, Labytnangi, Moscow
2001
Russia: Peninsula Kola
– kayaking and trekking
Moscow, Olenegorsk, lake Lovozero, Lovozerskie tundras, Sejdozero, Lovozero (city), Murmansk, Moscow
JULY
Russia: Moscow - Yakutsk
Moscow, Krasnoyarsk, r. Yenisei, Lesosibirsk, Yartsevo, Bahta, Turuhansk, Igarka, Dudinka, Norilsk, Talnah, mountains Haryjalah, Norilsk, Krasnoyarsk,
Krasnoyarsk columns, Ust Kut (port Osetrovo), Baikal lake, Severobajkal'sk, Nizhneeangarsk, Tynda, Nerjungri, Aldan, Yakutsk, Moscow
JUNE
Russia: Peninsula Yamal
– kayaking
Moscow, Obskaja, railway Obskaja-Bavanenkovo, the bridge r. Shuch'ya, r. Shuch'ya, r. Hej-jaha, Shuch'ya (city), Belojarsk, Aksarka, Salekhard, Moscow